Scintillation Nanotechnologies
Next generation scintillation proximity assay materials designed for specific radiolabeled compound detection in aqueous samples, nanoSPA and nanoSPA-LA offer several advantages over existing scintillation proximity materials due to their small size, intermediate density, and versatile surface.
Dispersibility and Suspension
The small particle size, low density, and surface chemistry make nanoSPA and nanoSPA-LA readily dispersible and stay in suspension longer than conventional SPA products.
A consistently high signal to noise ratio and better reproducibility give you confidence in your data and eliminate the time, cost, and frustration of repeating experiments.
Reduced Non-Specific Binding
nanoSPA-LA is specially formulated to reduce non-specific adsorption allowing highly specific, reproducible measurements in previously impossible applications.
The surface chemistry of nanoSPA and nanoSPA-LA allows for a wide range of functionalities to account for commonly available experimental protocols, such as protein A, protein G, streptavidin and his-tagged proteins.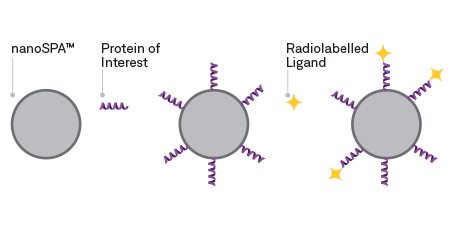 Attach your protein of interest to nanoSPA via a histidine tag and monitor the binding of radiolabeled ligands over time in the same vial or multi-well plate
Determine IC50/EC50 or perform other competitive assays for your receptor with sensitivity and reproducibility.
Attach detergent solubilized membrane proteins to nanoSPA to maintain protein function.
nanoSPA is available with protein A, protein G, streptavidin, and functionalized for his-tagged proteins.
Due to their unique chemical and physical properties, nanoSPA and nanoSPA-LA offer unparalleled capabilities in both routine and demanding SPA applications
Our proprietary scintillation proximity assay products were specifically developed to overcome the shortcomings of existing SPA products.
A silica surface makes the nanoparticles easily dispersible in water and provides an ideal platform for surface functionalization.
Our proprietary core delivers consistent, reproducible scintillation results.
Their small size and intermediate density mean our materials stay in suspension longer than competing products.
A versatile surface enables a wide range of applications. Current surface functionalizations include Protein G, Protein A, Biotin, and for his-tagged proteins.
Instruments and Detectors
nanoSPA is compatible with most PMT-based scintillation counters (blue variants), and CCD-based instruments (red).
Scintillation Counts
nanoSPA is a polymer-based scintillator and will yield lower total counts per unit of radioactivity in most experiments than scintillation cocktail or inorganic crystal-based scintillators.
Usage
nanoSPA can be used in scintillation vials or multi-well plates.
Organic Solvent Compatibility
nanoSPA is not compatible with many organic solvents including acetone, ethyl acetate, toluene, benzene, dimethylsulfoxide, and acetonitrile.
| | | |
| --- | --- | --- |
| Product Version | Surface Modification | Color |
| | | |
| | | |
| | | |
| | | |
| | | |
| | | |
| | | |
| | | |
| | | |
| | | |
*Red products are available by custom order and will increase lead time. Please contact us below to place an order for red product variants.
Head to the product page to select quantities and view pricing.
Contact us for more information. We want to help you succeed.
3H, 14C, 22Na, 32P, 33P, and 35S
Red approximately 615nm
Blue approximately 430nm
For updates on future products, application notes and other resources, please sign up for periodic updates.